Cars for sale on Maui
EMAIL for latest info@bio-beetle.com
or call: Maui 808-873-6121 Hawaii time...
Currently selling: VW TDI Jetta,
biodiesel proven. 35-40 mpg.
and a Toyota Prius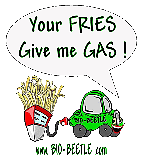 Home| Who we are| Maui Car Rental Policies| Maui Car Rental Prices| Electric Car Rental info| Biodiesel Car Rental info| Our Green Celebrities| Maui Hawaii tips and info| Cat Charity| In the News| Why ECO Friendly| More Links| Email
You're not just renting a car...