Maui Car Rental Reservation Request form
Please note this is an AVAILABILITY REQUEST form and not a confirmed reservation.
All reservation confirmations must be finalized over the phone with our rental agents, OR through email, but we need to get your credit card info before we confirm! Plus we will need the information below.
Reservation Phone line is open during regular business hours (Hawaiian standard time). If you don't reach us, (we're probably at the beach...) please leave a message and we will call you back, usually within 24 -48 hours, or the next business day.
If the rental is for several months from now, or you call on the weekend, it might take a little longer for us to get back to you. Please be patient!
To confirm a reservation, or for quickest response, please call us: 808-873-6121
Skype: ecorentalcars
Fill in the following or click here to go to a page to copy/paste into email or fax later. Clicking here will show you all the information we need from you to book a reservation
---
Hitting send should send you to a thank-you page. If it does not, or you do not hear back from us within a couple days, please let us know!
808-873-6121
IF YOU ARE READY TO BOOK A CAR Please have ready: Names/Addresses for all drivers Credit Card Information Drivers License number and expiration for ALL drivers Insurance Policy number for ALL Drivers
Mahalo for caring about the planet and wanting to rent a Bio-Beetle ECO rental car!
---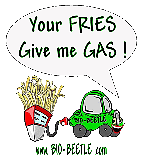 Home| Who we are| Maui Car Rental Policies| Maui Car Rental Prices| Electric Car Rental info| Biodiesel Car Rental info| Our Green Celebrities| Maui Hawaii tips and info| Cat Charity| In the News| Why ECO Friendly| More Links| Email
You're not just renting a car...