Los Angeles Bio-Beetle ECO Rental Cars
We apologize, but we were forced to remove our ECO Friendly rental fleet from Los Angeles. We are sorry for the disappointment this will cause. It seems L.A. mostly cares about cheap rental cars over protecting the planet...
We tried...
If you feel extremely strong about this, and want to help return ECO friendly rental cars to California, please email: info@bio-beetle.com Thanks for your interest though... Hope to see You on Maui!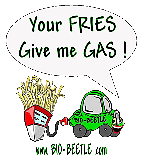 Home| Who we are| Policies| Prius Hybrids| EV Electric Cars| Biodiesel Information| Our Green Celebrities| Maui Hawaii Information| Cat Charity| In the News| Why ECO Friendly| Ecorental car.com | More Links| Email
You're not just renting a car...